Pants drafting
Posted by
caliginous on 2005.04.10 at 13:22
I can't get the scanner to work, so I re-drew the diagram and re-typed the directions to one of my pants drafting instructions (other methods are on loan so I can't compare them, they are all pretty similar). I only have photobucket as a host. Feel free to grab and re-host this image, click the link if hotlinking goes over my small bandwith allotment.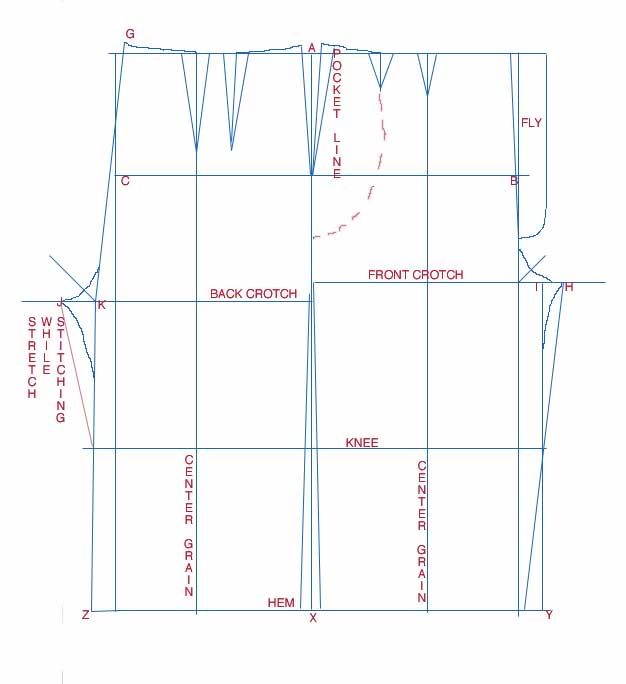 http://img.photobucket.com/albums/v23/caliginous/pants-draft.jpg
Pants Draft
Measurements:
Waist (narrowest point) _____________
Hip (widest point) ___________
Waist to hip (derriere)
Depth of crotch (run soft tape from front to back, at waistline between legs through crotch, sit down)__________________(measure will be halved for drafting)
Out seam/length________________
Waist to knee__________________
Waist to hipbones (mark as X's for future reference in hip huggers etc)_____________
1. Cut paper, the length of slacks plus 4 inches. The left side will be back, the right front
2. Waistline: draw line across top of page, down 2" from top of paper
3. Side Seam: Find midpoint of line (a) drop perpendicular through center from [AX] at hemline
4. Derriere: Locate derriere on body, draw line parallel to waistline (7-8" down) from waistline
5. Center Front: Establish on Front Hipline, right from center AX 1/4 total hip measurement + 1/4" Drop perpendicular/vertical line to bottom of paper at hem, and up to top at waistline
6. Center Back: Establish Back hipline, (left side) 1/4 total hipline minus 1/2" drop perpendicular/vertical line to bottom of paper at hem, and to top at waistline
7. Front slim waistline: for slim bodies only, bring front waistline in 1/4" at top
8. Raised back waistline: Bring back waistline in 1/2" and raise 1/2 inch (more if hippy)
9. Side Seam Curve: Raise 1/2", and curve in 1/2(+or-)" to reduce waistline
10. Curve Waistline, from front, to 1/2" higher at sides, and back. For elastic or cord waist, do not curve, but add extra inch at top for hem which becomes elastic or cord casing
11. Curve side seams in from new raised waistline to derriere (for thicker waistlines, curve less)
12. Crotch: Measure down side seam from new waistline, depth of crotch + 1/2" ease draw horizontal line
13. Front Crotch Extension: Measure out from CF 1/4 pattern measurement, extend Front crotch line
14. Front Curve: Draw Diagonal 1 1/4" at intersection, bisect triangle, and curve front crotch extension
15. Back Crotch: Lower back crotch 1" below front crotch line draw parallel to front
16. Back Crotch Extension: Extend back crotch 1/2 Back pattern measurement (more if heavy) [J]
17. Extend back Derriere 3/4" beyond Center Back. Connect with diagonal to back waist, extending to back crotch extension. Persons with heavier thighs may need additional extension
18. Back Crotch curve is a tight diagonal, only about 1/4" at intersection and extension
19. Front Inseam: Drop perpendicular vertical line from midpoint of front extension to hemline
20. back Inseam: Drop perpendicular vertical line from midpoint of back crotch extension to hemline
21. knees: Locate knee, draw and label horizontal line at knee level. This is an important construction mark
22. Front inseam curve: draw curved line from extension to knee. Mark knee on fabric when cutting
23. Back inseam curve: draw curved line from extension to nee. Stretch this bias to match front knees when stitching pants (remember back crotch is lower, so inseam is shorter than front
24. Grain line: Mark vertical grain line in center of leg, to waist at front, to crotch at back. Front dart can be on center front grain line
25. Darts: determine the number and size of darts by subtracting 1/2 body waist measurement front he 1/2 body pattern. The differential will be used for darts to fit waist (f=1/4W+1/4" b=1/4W-1/4")
26. First dart: establish on-crease grain line. Draw perpendicular at centre 1" in length for each 1/4" in depth. Taper dart from waist on each side of dart center line
27. Second dart, both front and back, about 1-3 inches from first. These are guidelines online. Darts direct fullness to body curve; front to hip bone or tummy, as needed, can be pleats. Back darts are longer, and usually wider, stopping above derriere
28. Shaping legs: this draft is straight from the hipline, making full legged pant.
Straight: tailored: measure in 1" at cuff on out seam, connect: narrow inseam equally. Connect slimmed inseam to pant inseam at knee
Tapered: slim: keep grain line in center of leg, tapering equally on in and out seams.
Bell Bottoms: Ad 2/3 of fullness on out seam, only 13 on inseam for full pants
29. Waistband: draft pattern waistline plus 1" ease, plus 2" for 1/2" seam allowance and 1" overlap. Band should be about 1" wide plus 1/2 or 5/8 seam allowance
30. Seam allowances. Designer patterns are cut without seam allowances. Remember to mark all stitching lines and add appropriate seam allowances (1" on out seams) when you cut fabric
31. Pin Fit: Pin up garment and try on wrong side out for fitting Match knees and stretch back inseam
32. Stitch: 1-darts, maintaining slip tips press to center 2-inseam; 3-crotch seam (fit) 4-outseam, with pocket 5-zipper; 6-waistband; 7-hem
NOTES (mine)
The drawing is NOT TO SCALE. I re-drew it in Photoshop, the curves should be smooth, the measurements precise.
The dashed line is the pocket bag, not required.
I have included all the lines drawn on my original, which includes extras such as tapered legs and the pocket line for front side pockets, which are NOT on the seam. To use this you must cut one of the bag pieces of fashion fabric, as it will show, the other half can be lining.
Back Crotch: Draw a line 1/4" long from back crotch to line GK, then slightly curve this to get the correct curvature
Slopers are drafted from the natural waist, which I realize not many of us wear clothing there. It is done however so that you are dealing with one set of measurements at a time, and so that all the sloper pieces can connect to each other (bodice sloper stops at the waist, it can then connect to pants for a pant-suit or skirt for a dress). Please draft accorddingly, and then you can re-draw your lines to have pants sit where comfortable, and simply re-draft your waistband.